*All people in our photos are actual Averill's students and not stock model photos.
We believe in our clients.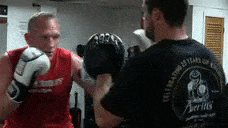 From the absolute beginner to the seasoned athlete, and everyone in between, you don't need prior experience and you don't have to spar in the ring to train at Averill's Martial Arts. Whether your interest is mainly for fitness, or if you aspire for competition, our seasoned instructors will school you in all the technical aspects of the great stand-up arts.
NH's best training Boxing, Kickboxing, Muay Thai and Tai Chi. Classes for Men, Women and Kids.
TRain right • Train today
Old School Tips from an Old School Guy

™
Coach Paul shows you how to defend against the haymaker punch and how to end the confrontation! Train Right!